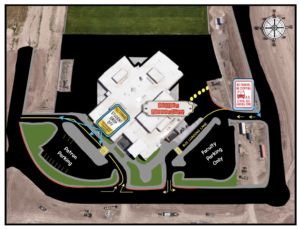 Student pick-up and drop-off is in the drive through on the west side of the building.
Drive as far forward (north) as you can, before stopping to let your children out
Students exit and enter cars on the north west side of the crosswalk
Students need to exit vehicles on the passenger side, onto the sidewalk
The red painted areas on the streets and drive-through before the crosswalk are not student drop-off or pick-up areas. We are going to have kids wait on the north end of the crosswalk.
If you park in the parking lot to pick up children, please walk to the crosswalk so children are not running through the parking lot.
Buses and daycare buses will use the drive through on the south side of the building. No regular student drop-off is available here. Please don't use the faculty parking lot on the south side as student drop-off and pick-up.
Encourage students walking or riding bikes/scooters to reduce car traffic. Once on school grounds, students need to walk their wheels to the bike rack.
The first bell rings at 8:55 am and doors will unlock. Students will then enter to their classrooms to begin the day.  If students arrive after 9:00am, they need to check in at the office. Please have students at school before the 8:55am bell. School begins at 9:00 am.
Breakfast is served from 8:35-8:50am in the cafeteria. Students enter through the office.
No outside student supervision is available before 8:45am. Please don't send students to school until 8:45 (at the earliest).
School dismisses at 3:35 pm on Monday-Thursday and 1:00 pm on Friday or other short days. (Please see the calendar on the main page for specific dates)